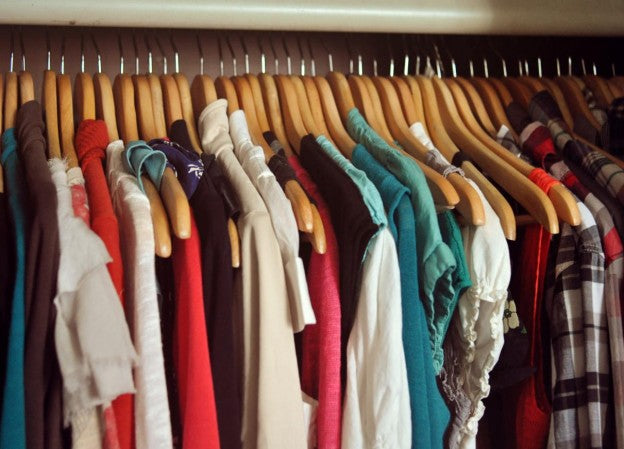 13 WAYS TO USE HANGERS FOR MULTIPLYING CLOSET STORAGE CAPACITY
So, you've got an important office party to attend this evening and you already know what you're going to wear to it-the beautiful pencil skirt you picked up during one of your trips abroad. The only problem, however, is that you can't seem to locate it. Sure you kept it in your closet. But then again, the heap of other clothes stashed in there is not going to make it any easier for you find the skirt you're frantically looking for.
Women, in particular, tend to hoard clothes, which often leaves their closet in a mess. If you can relate to such a scenario, you're probably wondering as to how you can organize your wardrobe in a way that you always find exactly what you're looking for and makes ample space to store other items as well. The answer lies in using hangers.
You know exactly what they are, and probably already have a few. If not, then you need to invest in them as soon as possible, put them to good use, and sort your wardrobe out. Whether it is your tops, bottoms, outerwear, footwear, or accessories, hangers can help you put everything in order.
Some of the best things about using hangers are that they're affordable, easily available, and convenient to use. Not only can you hang them inside your closet, they can also be hung anywhere depending on how you want to arrange things in your wardrobe. Hangers will help you organize as well as motivate you to get rid of all the clutter you don't use, especially if your closet is short on storage space.
Think about it-why do clothes look so appealing when you see them displayed in stores? It could have something to do with the way they're hung on rods, systematically and neatly. Why not replicate this in your home as well?
Here are a few ways in which you can use hangers to organize your closet and maximize its storage capacity:
1. INSTALL EXTRA RODS
The only way to include hangers into your wardrobe is to have rods to hang them on. Depending on the number of hangers you own, ensure that you have sufficient rods. If you want to incorporate more hangers into your closet, arrange for more rods and get them installed as per the size and shape of your closet. For example, in a tall, narrow closet with hard-to-reach corners, install extra hanging rods perpendicular to the main one, and voila! Bring in the hangers!
2. USE THE SPACE ON THE INSIDE OF THE CLOSET DOOR
So you think that only the space inside your closet is of real use? Think again! You may want to consider using the vast canvas on inside of your closet door too. Be creative and fix a closet organizer on the door. Of course, you will do well to hang lightweight things like empty bags, scarves or flip flops on these hangers. You don't want to end up damaging your door!
3. SHOWCASE YOUR JEWELRY
Got lots of jewelry, but little or no space to store it properly? Hangers can help here as well. Again, harness the power of a few wooden hangers and small screw hooks. Paint/decorate them if you like adding a dash of color to your things. Attach the screw hooks to the hanger and use them to hang your necklaces, bracelets and earrings. Hang the hanger(s) on a wall or your closet door. This is a great way to arrange and manage your jewelry and keep the chains from intertwining.
In case, you don't have enough time to make it, Only Hangers has the jewelry hanger stand ready for you.
4. ONE FOR YOUR COATS
Low on space in your home and cannot find room in your foyer to place a sizeable coat stand? No need to fret as a few wooden hangers and a board will make it easy for you to hang your coats. All you need to do is fix the hangers upside down on the board, so that the wooden part of the hanger can be used to hang coats and hats, and the metal part can come in handy for holding your keys, bags, walking stick or anything else you want to hang! If you're swamped with your work and don't have an ample time to create one, this coat hanger comes handy.
5. BELT IT OUT
Another wooden hanger and another storage space created. Fix a few small cup hooks to the bottom of a hanger and you've got yourself a great belt hanger. You can hang this hanger in your closet to ensure that your belts are perfectly organized and not crumpled or squeezed into a drawer. This can be great as hanging belts can help you protect the leather from cracking and increase their longevity. If you want your belt hangers ready, please take a look at Only Hangers belt hangers.
6. HATS OFF TO YOU
If you or your kids tend to wear a lot of caps and/or hats, you'll probably need some place to store them safely. Now you can! All you need to do is add a few plastic or metal shower hooks and you've created a place to hang all your hats in great shape. Simply slide the hooks into the bottom of the hanger and they're ready to be used.
7. HANG YOUR FOOTWEAR
Most of us tend to have a variety of footwear to wear to different occasion. Footwear needs to be looked after if you want them to look good and last long. Only Hangers shoe organizers work fine for that. Different types of shoes need different kinds of care, which is why you need to hang them properly. Here's how to do it right:
Flip flops are comfortable, but they also tend to get lost at the bottom of the closet beneath other shoes. A few small-sized plastic hangers can be of great help in such cases. You will need to be extremely careful in breaking the hangers from the sides to make room to hang the flip flops. Storing them this way is a great way to ensure that they stay clean and in shape, without getting lost under a mountain of other shoes you own.
Old wire hangers can be your best allies here. Simply buy a few if you don't already have them and cut the ends of with a pair of wire cutters. Use pliers to bend the ends to hold the shoes in place. Use this repurposed hanger to suspend lightweight pumps, tennis shoes, and other closed-toed shoes to keep them well organized.
Hangers can also help you organize your boots. Modifying your regular pant hangers can do the trick of keeping them off the floor when not in use. Just clip the top of your boots into the hangers and hang them. This works particularly well if you have a shorter rod in your closet that you can hang your boots on. Want them ready? Have a look once over Only Hangers boot organizers.
8. SCARVES AND ALL THAT JAZZ
If you wear a lot of scarves, then you probably own quite a few. How often have you lost your favorite scarf under a pile of other scarves? I bet searching for it takes up a lot of your time and delays you arrival at work too. If you face this situation often, then scarf hanger helps you.
A simple plastic hanger and a few shower curtain rings can enable you to fashion a handy instrument to organize and hang your scarves. All you have to do is fix the rings to the hanger by sliding them on. The rings are now ready to hold your scarves in the most efficient manner. Feel free to slide in as many rings as you need on multiple hangers if you have lots of scarves and don't want to overcrowd them.
9. TIE THINGS UP
Ever seen one of those coat hangers that look so sturdy and wondered as to what else you could use them for? Here's a great use for them. Hang your ties on them to keep them well-organized and absolutely wrinkle-free. You're also going to need a few metal/plastic shower hooks for this. Clip the hooks to the hanger and hang your ties. So, why to keep those beautiful ties hidden in your drawers when you have this wonderful tie hanger?
10. FOR YOUR SKIRTS AND PANTS
Some of the most important inclusions in your wardrobe include your pants and skirts. These are expensive garments, so you want to make sure that they're always in good shape and available to be picked out when needed. This can be easily managed with the help of skirt hangers. They're versatile, so you can hang your pants on them as well. However, do not make the mistake of hanging a skirt on a pant hanger, unless it is folded, which can be an issue because folding can lead to wrinkles.
Go for skirt hangers that come with moveable clips to easily adjust it to the size and the style of the garment.
Formal pants or trousers can be hung by the cuff on a clamping trouser hanger. Casual pants and/or shorts can be folded and hung, but ensure to fold them in half along the crease so that the fold aligns on both sides.
11. ORGANIZE YOUR DELICATES
More often than not, storing your delicates in a safe manner can be tricky. This holds particularly true of padded bras as they lose their shape if not stored properly. Hanging them on an appropriate hanger, such as a satin hanger, can prevent that and also keep the straps from tangling. Create a bra organizer of your own with the help of a few wooden hangers and a few screw hooks. Hang the hangers on the hooks vertically, and there you have it, a flawless way to organize your delicates.
12. SUIT THE HANGERS
Both, men and women wear suits to work. It's a great garment that not only lends a professional and an uber-classy look to the wearer, but also makes a statement in itself. However, if it is ill-fitted or shapeless, it will work against you. It is, therefore, crucial not to fold a suit, but to hang it. For this, you need to choose the right suit hanger carefully. Hanging it will also take up less of your closet space.
You will do well to buy wide-shoulder suit hangers with a pant bar. Such hangers can not only be used to hang the suit jacket and the pant, but also for your expensive blazers and coats. These hangers are effective because they support the jacket's shoulders, which is exactly what heavy coats need to stay in shape.
13. DIY HANGER FOR CRAFT SUPPLIES
We all have those tiny craft and sewing supplies at home, which consist of needles, threads, scissors, and other items we need when a shirt button falls off and needs to be sewn back again. Or when we realize that the pant's hem needs to be altered to a better length. These items are tiny and pretty difficult to take care of. How about creating an organizer for them with the help of some scrap denim and an old wooden hanger?
Use an old pair of jeans with the pockets intact to make this. Attach the denim to the hanger and add additional pockets, if you like. This can be done by stitching or with the help of fabric glue.
Bonus Tip: Using Rubber Bands
People often complain about how their clothes keep slipping off plastic hangers. If you're one of those people too, don't let these woes keep you from using hangers. Make use of rubber bands and hot glue to get rid of this problem. Simply stick the rubber bands to the ends of the hangers and your clothes will stay in place until they're taken off.
Conclusion
Organizing your wardrobe need not be the vexing task it is made out to be. By making a few careful choices and inclusions into the process, you can end up with a neat and systematic closet and always find what you're looking for. Hangers can work like a charm when it comes to sorting out your clothes. They not only prevent clothes from crumpling, but also increase their visibility in the closet. So, the next time you decide to set up your closet, consider using hangers to store your things.
Got other handy tips for being creative with hangers and maximizing your wardrobe space? Feel free to leave them in your comments.