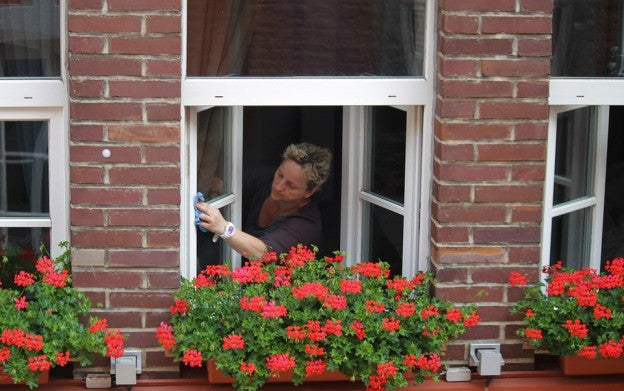 4 TIPS TO HELP YOU TACKLE BIG HOME CLEANING PROJECTS
Cleaning and organizing our homes is not an easy task. No matter how regular you are with your dusting and mopping, there are just too many spots in your home where dust can hide and grime can build up.
Deep cleaning not only refreshes interiors, it also gives a warm and welcoming glow to your home. The decor looks new and beautiful, and your house looks lovely and taken care of.
One of the biggest reasons why we put off organizing and cleaning our homes is because it is hard to decide from where we should set the ball rolling. Is it the bedroom and the cluttered closets that deserve our attention first, or is it the messy kitchen?
Here are a few tips for you if you are planning to give some TLC to your home.
1. TACKLE BEDROOMS FIRST
Our bedrooms are where we spend most of our time home at. It is the place where you relax and rejuvenate, and is also where you wake up in the morning to. A neat, well-organized and tidy bedroom will help you start your day on a positive note.
So what should you do to transform your bedroom and bring order into the chaos?
Closets can tell a lot about the person they belong to. Cluttered, over-stocked, confused and chaotic closets just give a picture of how your typical weekday morning begins. So if you want to wake up to less hassled, easier and more convenient mornings, it is necessary you organize your closet and find a place for everything you have stowed away in there.
Clothes that you haven't worn in the last few months, outfits that no longer fit and worn out clothes need to be donated or trashed. Unseasonal clothes and clothes that you want to keep need to be stored appropriately and securely. Ensure that you take required precautions to keep away moth and mold.
Organize the rest of the wardrobe you want to be in regular circulation neatly. Use appropriate hangers for different types of clothes. Coat hangers and specialty hangers ensure that all pieces of clothing get a place they deserve, and are easily accessible.
Store knickknacks like jewelry in clear bins, so that you can see what's inside while searching for your stuff.
Clean, organized and beautifully done up bedrooms go a long way in improving the aesthetic appeal of your home. Also, once the mess in your bedrooms is cleaned up, you instantly feel that a major part of your home organization work is done.
2. CLEAN UP THE BATHROOMS
If you are sprucing up your home for a party or a family get-together, remember that guests often overlook the layer of dust on the coffee table or the traces of grease on the kitchen hood. But a dirty or smelly bathroom can be really unpleasant to guests and can mar their time spent in your home.
Clean countertops and other surfaces using a 1:1 mixture of water and white vinegar. Spray this onto paper towels or a microfiber cloth and wipe down mirrors, faucets, surfaces and the sink. This will also help remove toothpaste and soap stains.
Use a disinfectant in the toilet bowl and swish with the brush. If you are using a multi-purpose disinfectant you can use it to clean the shower area as well. Use a microfiber cloth to wipe the shower curtain and walls clean.
Use toilet paper to wipe out anything dirty on the commode and drop it back into the bowl. Use the same paper towel as you used to clean mirror and countertop, and wipe down the tank lid and move down till you are fully done. Flush again and you will see that the toilet bowl is sparkling clean. Trash the paper towel.
You must also wipe the corners of the room with a damp paper towel and remove all collected dust and hair.
3. TREAT HARD WATER STAINS
If you live in an area with hard water, then removing the resulting stains will be one of your priorities. You can remove hard water stains quite easily using cleaning vinegar. Soak a few towels with vinegar and wrap them around faucet bases and other plumbing fittings. An hour or two is all that is required to get rid of the stains.
Lime scales also clog shower-head pores and reduce water flow. You can fill a plastic pouch with vinegar solution, immerse the shower head in it and then tie the pouch tight. If you let it sit for a couple of hours or overnight, you will discover that all the hard water mineral deposits have dissolved due to the powerful action of vinegar.
For whirlpool jets in bathtubs, you can try the very effective mixture of hot water, bleach/vinegar and dishwasher detergent. Soaking the jets for about an hour will help remove all mineral buildup from them, and give you a good as new and fully functional bathtub.
4. FOCUS YOUR ATTENTION ON THE KITCHEN
Kitchen is the soul of a home, and holds special significance in every house. A simple, clean, uncluttered and robustly used kitchen has a special charm and allure of its own.
Deep cleaning a kitchen requires you to make a checklist of all things that need urgent attention, and tackle them as soon as possible.
All visible surfaces, and fronts and vertical sides of kitchen appliances, big and small, must be wiped with an all-purpose surface cleaner. Wipe all upper and lower cabinets and shelves. Give a quick deep cleaning to your oven. Once this is done, move over to the countertop and use a mixture of warm water, vinegar and baking soda to scrub the surface clean. You can also use this to wipe down your stovetop.
As you clean the visible surfaces, countertop and other areas of your kitchen, fill the sink with warm water and dish wash liquid. Keep tossing all that you need to wash into the sink so that they will do some soaking before the washing up.
Greasy kitchen hood and filters can be easily cleaned by using the 'fight oil with oil method'!
Once you are done with dishes, stack them away neatly. Ensure that your kitchen shelves and cabinets are organized and uncluttered.
Deep cleaning kitchen may take more than a few days, but you will be surprised at the amount of dirt, dust and grime you have waved goodbye to.
CONCLUSION
A clean home is safe, healthy, fresh and beautiful. An expensively done up home will not look as splendid if it is not clean and organized. So spruce up your home for the coming festive season by getting started as early as possible. Plan and execute your cleaning mission smartly, and you will not have to worry about how your house looks by the time holidays roll in.
Image Source: 1