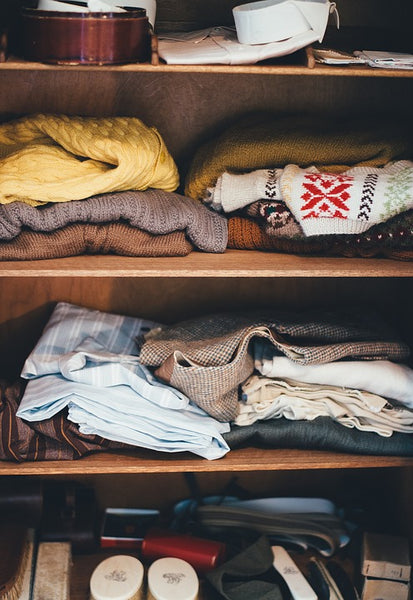 6 TIPS FOR CLOSET ORGANIZATION THAT LETS YOU GET DRESSED IN NO TIME
Have you noticed when you need to get dressed quickly, you seem to find absolutely nothing to wear? Trust us, when we say this, you are not the only one. Getting dressed quickly is one of the toughest things to do. All of us have a habit of hoarding clothes, shoes and accessories. We buy them, wear them once, or maybe not wear them at all, and then stash them somewhere in our cupboards. The result is piles and piles of stuff that you absolutely don't know you possess, or you simply don't know where to find them.
A cluttered and unorganized closet can conceal some of your most stunning pieces and make getting dressed an even more tedious task than it already is. To help you escape the drudgery of rummaging through drawers , and taking hours to find something appropriate to wear, we give you 6 tips to have an organized closet that lets you get dressed in no time.
1. ADD LOTS OF BARS
Bars or rods are a great way to maximize closet space. Utilize those difficult corners and high ceilings of the wardrobe by installing some extra rods. More the number of rods, more hanging space. You can easily include a lot of hangers in your wardrobe, if you have enough rods installed. This way not only will you be saving space, but hanged clothes are more visible as well. Besides, certain items demand to be hanged rather than folded.
Rods can also be used for hanging shelves where you can store your regular t-shirts, bags, shoes, or anything else really. Organizing by utilizing rods and hangers will allow you to have accessibility and visibility of your clothes, and thus save time, give you style perspective and prevent you from buying the same clothes more than once.
2. PACK AWAY OFF-SEASON ITEMS AND LONG TERM STORAGE CLOTHES
A crowded closet never made life easy. So thin out the crowd and make dressing simpler. Pack away clothes of the last season, or those smaller size clothes that once fitted you, and you so hope to fit into again. When that day comes wonderful, till then you can keep them stacked away somewhere and not allow them to merge with your regular clothes. Or even better, donate them or give it away to a thrift store. Think of all the new clothes you can buy when you get a size smaller! If you are decide to hang them however, off-season clothes should be hung at the back of the closet.
3. INVEST IN DIFFERENT TYPES OF HANGERS
Once you make up your mind to get a closet that allows you to get dressed real soon, your next step should be to invest in different types of hangers. You can use hangers to practically organize every kind of space and every kind of item. Here's a quick browse through of the different types of hangers you will need for your different types of clothes.
Plastic hangers in different shapes, sizes and colors are ideal for t-shirts, polo shirts, and casual blouses. They are also the most economically wise purchase that you will make.
To add that dimension of elegance to your closet, invest in wooden hangers. They are extremely utilitarian too. Consider them for all your expensive formal wear like tailored suits, jackets, robes and evening dresses. The delicate curve of these hangers will give the heavy suits and jackets the support they will need.
Pick wooden hangers with movable clips for skirts and hangers with clamps for your trousers.
To save space and make sure your delicates are both visible and kept it in the best condition, bring on board a few satin padded hangers. Padded hangers are perfect to store your delicate fabrics. Expensive blouses in silk, and delicate lingerie in satin and lace must be placed on such hangers.
Purchase a few customized hangers like scarf hangers, belt hangers to store your daily requirements like belts, ties and scarves, so that you don't have to go scourging through the drawers.
4. TURN CLOTHES PILES ON THEIR SIDES
By now we have established that visibility is the key to an organized closet and a fuss-free dress up routine. Though hanging your clothes is the best way to ensure visibility and timeliness, not everything in the closet can be hanged. Some things will need to be neatly folded up and kept in shelves, while others will need to be tucked into the drawers.
However, often when we end up stacking our t-shirts in a pile in the drawer, we forget what the items at the bottom. It's time to let those end-of-the-pile items to shine. Turn the stacks on their side to see everything in the drawer, especially the neglected bottom wrung ones. For more elaborate organization, insert more dividers in your drawer, so that there are more compartments for specific items like socks, leggings, etc. and you can locate each of these without wasting your time and energy.
5. CATEGORIZE AND GROUP YOUR CLOTHES
We identify things with categories and groups. So make this identification task easier for you. Break down your clothes into basic groups like skirts, shirts, trousers, jumpsuits, etc. Now arrange these subgroups further according to their characteristics like fabric, sleeve length, and of course color. Go ahead, and think up your own categories, that make maximum sense to you. So, all your orange tops will be hanged in one place going from strapless to full sleeves. You can use such a routine for all your clothes. Group and display the like ones together. This will help you to mix and match better, and create the outfit you want quicker.
6. KEEP THE BASICS AT THE FRONT ALWAYS
What do we understand by basics? Basics are items that look stylish and fabulous with pretty much everything. They are the most hardworking and versatile items of clothing that you have in your closet, so they deserve the front seat. Whether you are hanging them up front, or folding and keeping them, they should be at the top of the pile. You can also consider having a box or drawer just of these staples like your favorite work dress that can take you from meeting to dinner, the blue jeans, black blazer, white shirt and so on.
TO SUM IT UP,
Getting dressed quick automatically leads to being punctual, and attending all those coveted events on time, while looking impeccable. You can easily achieve this by planning your attire early, making sure your closet is rid of all those items you will never wear, and finally organizing your closet! So go ahead, make use of the above tips and start organizing!
( Image Source: 1 )