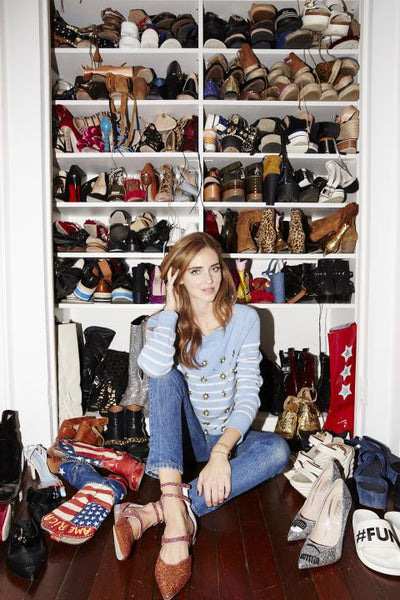 GET A CELEBRITY-STYLE CLOSET WITH THESE 4 EASY STEPS!
If you drool over the numerous handbags, shoes, and furs you see in celebrities' closets in magazines and on TV shows, you're certainly not alone! While a lot many people can do nothing more than wish for a closet that grand, you needn't settle for less.
Sure, you might not have all the money in the world to own a huge closet or buy the nicest of clothes and accessories, but you can work with what you have to get your closet in order and give it a makeover!
Giving your closet a celebrity-style makeover doesn't have to be a labor-intensive process nor does it require you to spend a lot of money, so don't worry about the task at hand. Read on for 4 easy steps to help you get the closet of your dreams.
PURGE
Celebrity closets can contain a gazillion items as they are huge in size. Since you might not have the space to hoard so many things, you'll have to purge whatever you can to ensure that you have ample space for your prized possessions.
Here are some tips to help you declutter your closet.
Get everything out of your closet and plop it onto the floor or on your bed. This will help you get to items stashed away at the bottom and back of the closet.
Separate items into three heaps-items you regularly wear or use, items that need repairing, and items you haven't worn or used in the past one year. Fix items in the second pile so you can use them and donate or sell items in the third pile.
See if you have any belongings that you use or wear occasionally. Store them in a separate place so as to avoid overcrowding the closet. Do the same for seasonal clothes and gear.
Stick to the one in, one out rule; throw or donate something old every time you buy something new. Doing so will help you keep your wardrobe clutter-free and fresh.
UPGRADE
A drab closet can never be a celebrity closet lookalike so upgrade the available space you have. If your wardrobe is too small and you'd like to expand, invest in quality furniture pieces like dressers. Alternatively, consider displaying everything out in the open on shelves and clothing racks. If you don't have a walk-in closet, simply curtain off a little space at the end of your bedroom.
Throw out your wire hangers and replace them with wood or plastic coat and pant hangers. Invest in lingerie hangers for delicates and specialty hangers for scarves and accessories to add some chutzpah to your closet!
Splurge on custom drawers and acrylic shelf dividers-they'll not only look good but also help keep your bits and pieces organized.
Bring a touch of luxury to your wardrobe by painting surfaces and shelves in white and adding gold accents. Give the door a fresh coat of paint and add molding to spruce things up.
Replace old, flaking, and rusty door handles and drawer knobs with new, decorative ones. Do get some attractive wall hooks too!
Use wallpaper on the back wall of your closet to add interest-go for prints or solid bold colors. You also can hang up inspirational art or fashion magazine covers!
Bulb lights and flush-mount ceiling fixtures can be boring; glam up the space by combining chandeliers with recessed lights. If you have a small wardrobe, make sure it is well-lit so you can see everything clearly. Additionally, use mirrors to make the space appear bigger.
If you have the space, add plush seating-an ottoman or a storage bench-and a pretty rug.
Do away with unsightly cardboard and plastic boxes and store items in wicker baskets or vintage suitcases.
ORGANIZE
The only celebrity closets you've probably seen are tidy ones, and since you're aiming for the same look, it goes without saying that you'll have to keep your closet organized. Organizing your closet and keeping it tidy at all times might seem like hard work, but it doesn't have to be burdensome.
Use these tips to make organizing your wardrobe and keeping it orderly a breeze:
Ensure that you can see each and every item in your closet clearly. If you can't have each piece on display, put like items together in boxes or bins and label them appropriately so you don't have to waste time looking for particular things.
You need to be able to reach all items inside your closet easily. So if you're piling things high up, keep a step-stool or small ladder nearby.
Separate items by type and then by color. For example, place all your jeans in one place, stacking them from lightest to darkest. Similarly, group sneakers and heels separately and then arrange by color.
Don't over-stack clothes as they'll just topple over and create a mess. Make short stacks and use bookends for support or use cubbies to divide space.
Have all hangers face the same direction; to keep track of what you wear, invert hangers when hanging clothes back inside the closet.
SHOW OFF
What's a celebrity-like closet if you don't show off your treasures?
Get a sunglass rack for your collection of shades or hang them on a rod attached to the back wall of the closet.
Refrain from placing handbags one inside the other as you could forget all about them. Moreover, placing handbags on shelves can make for a great display.
Exhibit your shoes in cubbies, on shelves, or in clear plastic boxes.
Hang accessories like necklaces, chains, and bracelets off decorative hooks or on a display centerpiece. Lay out earrings or other knickknacks on a silver tray!
Don't forget to show off your belts and hats-hang them on hooks affixed to walls or the back of closet doors.
CONCLUSION
Getting a celebrity-like closet can seem to be a far-fetched dream, but you can turn it into reality if you do the right things. Take things slow and use the tips given here to transform your closet from drab to fab!