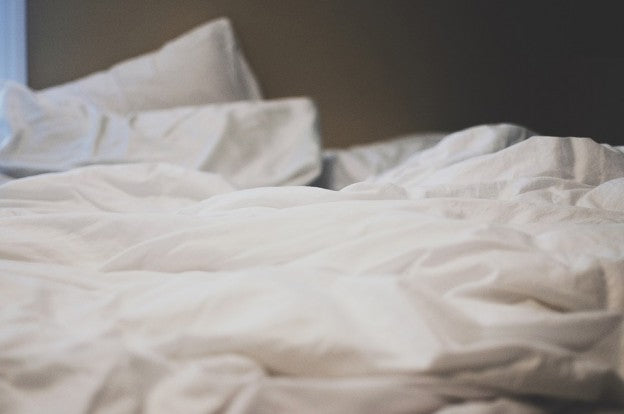 HOW OFTEN SHOULD YOU WASH BED SHEETS? (PLUS HOW TO ORGANIZE IT)
We all want to sleep on fresh, aromatic, crisp bed sheets, but they aren't going to stay clean by themselves!
If you're wondering how often you should clean your bed sheet, we'll tell you what it takes to keep them spotlessly clean at all times:
Washing your bed sheets once every week is the way to go. Doing so will help you keep dust mites and common allergens away. Of course, if you've stained your bed sheet, you should wash it as soon as possible to make sure the stain comes off. The longer the stain remains, the more difficult it will be to get it off.
Apart from dust and debris, bed sheets tend to gather dead skin cells, grease and sweat when you sleep on them. If you have pets, it probably also gathers dander, pollen, lint, and so on. It is, therefore, important to check the washing instructions on the bed sheet and clean it accordingly.
White and light-colored bedsheets wash well in any water temperature. However, warm water gets the job done thoroughly. Dark bed sheets wash well in cool water and should be dried in shade.
Simply knowing how often you should clean your bed sheets isn't enough. Unless you organize them properly, they're just going to wrinkle and look unkempt.
HERE ARE A FEW BED SHEET ORGANIZING TIPS:
Always keep your bed sheets ironed and neatly folded. Stack them either by color or by size. Cover your shelves with liner (to prevent fading or discoloration) and place the bed sheets directly on them.
In order to keep the pillow cases and the bed sheet sets together, fold the bed sheet and one of the pillow covers, and place them inside the second pillow cover. Or you can place entire sets in Ziploc bags.
To keep your bed sheets smelling fresh and pleasant, toss a few lavender sachets on the shelves before placing them.
With the above simple steps, you can regale in the joy of sleeping in comfortable and clean bed sheets every night!