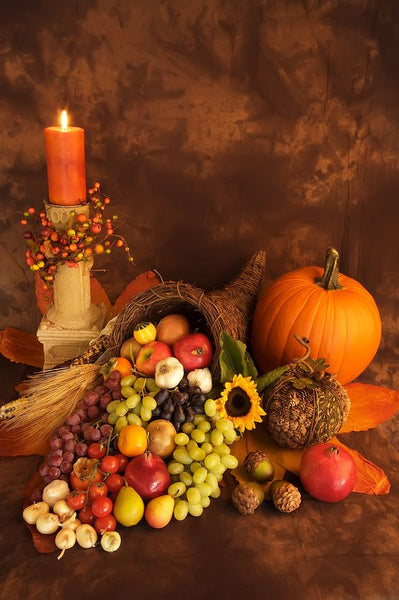 LAST MINUTE HOME DECORATION IDEAS FOR THANKSGIVING!
Holiday entertaining is a lot of fun that also involves a whole lot of work. And while you're busy prepping for meals and making sure your home looks neat and fresh, home decoration is likely to take a backseat!
This year, don't limit your last minute decoration to just putting up lights. We've got you covered with these 8 easy ideas that you can try out and bring to fruition in a relatively short time.
P.S. Most of these ideas involve scouting through your backyard for twigs and leaves, spray painting, and composing elements. In other words, you'll ace this!
ADD CURB APPEAL
With holiday decor at your doorstep, you're sure to get your guests in the holiday mood instantly! Try your hand at these quick fixes:
Make a fall front porch by arranging some pumpkins in a corner or on both sides of the door. You can use real or faux pumpkins! Place real ones after giving them a wipe down with a damp cloth and shining them with floor wax. If using faux pumpkins, consider spray painting them in white and/or orange. A touch of gold glitter will add sparkle to your setup.
If you have planters outside your door, consider giving them a new coat of paint. Spray painting a broad band of white or gold, or tying burlap bows will also make them look pretty. Large candles and lanterns can create some festive drama.
MAKE A WREATH
What's holiday season without a festive wreath? Hang one at the gate or on the door, or place one by the fireplace, and you're all set for Thanksgiving! Check out these home decoration ideas:
Take a foam wreath form and wrap it up with burlap or ribbon. Remember to choose fall colors! Secure the fabric in place using floral pins. Overlap sections making sure the foam doesn't show through. Attach faux fall leaves and pine cones as desired with floral wire or glue.
Weave some twigs and sticks around a wreath ring, making the wreath as thick as you want it to be. Spray paint it or hang it up as is. You might want to embellish with a burlap bow, pine cones, berries, and wildflowers.
DECK UP THE MANTELSHELF
A pretty Thanksgiving mantel can amp up the heat in your living room and also serve as a great conversation starter! Here's all you need to do:
You can create an amazing display with the help of some pumpkins and gourds of varying colors and sizes. If you have a selection of candle holders lying in your attic, clean them up and give them a coat of paint to unify the look before placing them on the mantel. Consider arranging small-sized gourds on the candle holders and a couple of decorative candles.
Apothecary jars and glass cloches can make for wonderful festive decor pieces. Fill jars of varying shapes and sizes with a combination of elements like large rocks, pebbles, pine cones and leaves, beans, nuts, berries, burlap, ribbon, and small pumpkins and gourds.
SET UP AN INVITING TABLE
Your turkey and pies probably don't need any help in looking drool-worthy, but creating a stunning display in the dining room is sure to further delight your guests! Consider these ideas:
Lay out a table runner; you can mix and match table runners of varying fabrics, widths, colors, and patterns. A paper runner with a fall-themed print will also look great and save you time spent on cleaning up! Spray paint fall leaves and use them as place holders-you can write names on with markers or paint. Tie up utensils with twine and use a sprig of rosemary as a napkin ring.
Assemble pumpkins and gourds on wood slices to form a centerpiece. Gourds, berries, twigs, pine cones, etc. can also be arranged in a large tray or wooden box or charcuterie board. Fresh flowers, berries, and twigs in a distressed toolbox or planter can make for an interesting combination. Add candles or fairy lights to complete the festive look!
CONCLUSION
Home decoration for Thanksgiving doesn't have to be burdensome at all. With the tips given here, you now know some amazing ideas that you can pull off easily this year. So get started on the decor and let the festivities begin!