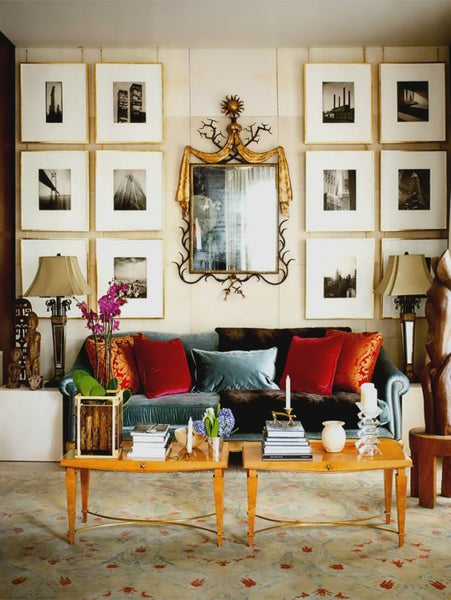 MIXING FURNITURE DESIGN STYLES: TIPS TO MAKE ANTIQUE FINDS FEEL AT HOME
If you love antiques but are forced to keep yourself from purchasing them because you're unsure whether or not they'll go with the rest of your furniture, you've come to the right place! Mixing antique pieces with modern furniture is not difficult at all, and if you do it right, you are sure to create an individualized living space that you're sure to love.
That being said, your house can look chaotic if you don't blend the two styles well. So here are some tips that you'll find helpful while incorporating your antique finds into your existing decor.
Embrace All That You Have
Just because you've found something you really like or a loved one passed down an antique to you, doesn't mean you do away with the modern elements in your house. You don't even have to consider buying new stuff that will go with your antique finds. Try different things and see what looks great; you can always change or alter what you don't like!
Buy Wisely
More often than not, people buy antiques as accent pieces. While this isn't bad, look beyond the capacity of an item when purchasing it and consider how you can incorporate it into your living space.
Keep in mind that working articles and furniture items into your space starts when you're buying items and not when you bring them home!
Bring out Your Creativity
Stretch your creativity and be brave when mixing furniture styles. Remember-antiques don't always have to be used as they are intended to be! By finding new uses for items, you can not only bring them to life but also make your house stand apart from the others.
You might find the better use for some antiques when you've restored them. However, go easy on the antiques; you don't want to overdo the restoration work. Restoring an antique more than is needed can hide its age and make it less interesting.
Don't Try to Match Everything
Interior design is rarely about having matching elements together in a room. Decide whether you want to go for harmony or contrast and then work with what you have.
You can let modern furniture dominate and use antiques as accent pieces. To create harmony, select pieces that are not very different from one another. You could also use different pieces in the same color to create a restful look.
Create a unifying theme by using items with the same motifs or lines. Using wood furniture or articles made of the same wood or shaded similarly will help achieve a sort of uniformity.
If you're looking to create contrast, juxtapose different colors, shapes, finishes, and textures. When creating contrast, keep the color palette limited or space can end up looking crowded.
Use Neutrals as a Backdrop
Using neutral colors on the walls and ceilings will help you use a variety of accessories and furniture pieces without making the place look cluttered.
Don't stick to white, beige, and cream though; gray and blue hues will make for wonderful backgrounds!
Pay Attention to Proportions
When mixing period styles, paying attention to proportions is crucial. An extra large armoire can overpower space when placed in a small kitchen, and a small-sized area rug can look bitty when in the wrong place.
Furniture and articles in proportion to the size of the room and each other are sure to blend well while disproportionate items are bound to stand out and look bad.
Create a Focal Point
If you have a particular antique that just doesn't seem to match with anything, you don't have to do away with it. Make that antique the focal point of space you want to display it in and build the rest of the furniture around it.
By turning an antique that normally wouldn't fit in into a 'wow' factor, you now have a great conversation starter!
Be Repetitive
Being repetitive can help you pull off the mix and match look with ease! If a single antique corner chair doesn't look good, place a second one in the room to add stability. You can use this idea to your benefit by repeating the same lamps, cushions, and even picture frames.
If you don't have items in pairs, don't worry; two items of the same style will work just as great. Use similarly colored items to tie everything together. Repetition can also be achieved by using items with the same fabric patterns or made using similar materials.
Don't Build a Museum
You want your house to look like a living space, not a museum. So refrain from stowing all your antiques in a single room. Think of your house as a whole rather than dividing it into rooms-the mix of period styles must flow from one room to another rather than be confined to one place.
Further, rooms should look like an extension of each other instead of coming across as individually decorated boxes.
Keep Things Limited
You don't want to overdo it and have the rooms filled to the ceiling with interesting things. Give the eyes some rest and limit the number of antiques you have on display. Ensure that you don't have multiple focal points as they can make space look incoherent.
Furthermore, be sure to space items well away from each other. Too many visually stimulating pieces huddled close together can really tire out the eyes and mind.
Have Adequate Light
The worst thing you can do to your home is to have overhead lighting in every room. Not only is overhead lighting unnecessary everywhere, it can also make things appear flat and dull. And when you have beautiful articles and furniture pieces to show off, using overhead lighting can be blasphemous!
The light should complement the color and tone of your furnishings instead of making them look bad. A good light will also allow you and your guest to appreciate what you have. So be sure to invest in good ambient and accent lights to bring out the best in your collection.
Conclusion
Your home is your own personal space and you can't really go wrong decking it up. However, when it comes to mixing two or more styles of décor, things can go wrong easily. You could end up making your house look busy or lacking definition!
Don't let this put you off from buying antiques and experimenting with different styles! With the tips given here, you now know how to go about decorating your house. So let go of your inhibitions and make your antique finds feel at home!