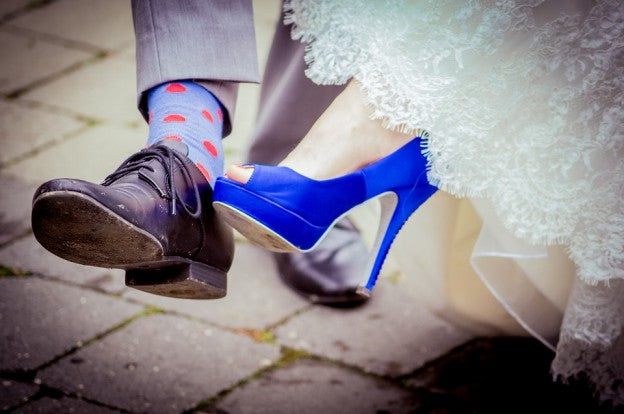 SMALL-SPACE SOLUTIONS: STORE YOUR SHOES IN STYLE
Shoes, shoes, shoes, and more shoes! Every closet has them as prized possessions. It is said that women are forever hopelessly in love with shoes. That's true, but men aren't far behind either.
Loafers, work boots, slippers, dress boots, duck boots, sneakers, flip- flops, and various other styles of footwear are integral part of a man's wardrobe. Men may not flaunt their kicks as much as women do, but there's no denying that they too love their shoes.
When you treat your shoes as an essential part of your ensemble, storing them properly becomes a priority. After all, they are the investments that separate you from the ground, literally!
But, what if you have a small space to store your beautiful collection of shoes? You don't need a house-sized closet to store your footwear. Here are a few quirky ideas to ensure your prized possessions get their due respect and are stored intelligently.
1. ORGANIZE YOUR SHOES
Regardless of the available space, the first step towards storing your shoes properly is to organize them. Sort them in the way you prefer. Segregate them style-wise if you have a different style shoes or utility-wise depending on how often you wear them. You can even sort the shoes as per the occasion-everyday use, party wear, formals, and so on. You must first organize your shoes properly to store them in style.
2. DON'T INVEST IN BROAD SHOE RACKS, USE OVER-THE-DOOR ORGANIZERS
Shun the age-old custom of buying a broad shoe rack to stuff your shoes. Not only do they occupy a lot of space in your home, they are not meant for the stylish. The shoe racks get pushed at the end of the house over time and the style quotient in storing your shoes becomes zero.
Instead of buying shoe racks, invest in over-the-door organizers. They can be hung wherever you have some extra space, such as the back door of the closet, corner of the closet wall, and behind the main door. These door organizers are compact, washable and can store numerous shoes.
3. HANG THEM UP
Whoever said creativity is only for artists wasn't fully correct. Put your creative instincts to use and create DIY hangers for your shoes. These hangers can be easily made using metal wires, which can be folded to hang your shoes. Install a rod horizontally a little above the ground in your closet or between two cabinets and hang your shoe organizers or hangers on them.
These hangers not only accentuate the beauty your space, but also put your beautiful shoes on display. For heels, you can use pant hangers as well. Hanging your shoes instead of leaving them on the floor will also ensure the beautiful rug in your room isn't soiled by dirt from the shoes.
4. USE CONTAINERS WITH LIDS FOR BOOTS
Storing pairs of boots can be quite a task because they are long and occupy more space; and if the leather boots are stored properly, they develop an ugly crease. If you don't have enough space to store boots vertically, then you can use plastic containers with their lids to store them, and place the containers one above the other. This will save your boots from dust.
You can stack boots together and keep them anywhere without cluttering the space. If not containers, you can use pant hangers to suspend the boots.
5. SHOE BASKETS FOR THE LITTLE PAIRS
Your little one may have several cute pairs of shoes to wear with different outfits, which may make managing them all quite tedious. Use beautiful baskets to store their shoes. Doing so will save you tons of space, and also ensure you find all shoes at one place.
You can maintain separate baskets in different sizes for shoes, sandals, and flip-flops. This way, your kids will develop the habit of putting their footwear back in the right place. Complicated places and arrangements are difficult for kids to adhere to.
6. STACK THEM UP ON STAIRS
This idea works perfectly in houses with less storage space for shoes. Stack your everyday shoes or your flip-flops in one corner of your stairs neatly. They won't hinder the walking space and will be readily available for use anytime you need them. Keeping your regular-use shoes on the stairs will clear space in your closet for the expensive and delicate footwear.
7. THE GOOD OLD SHOE BOXES
The shoe boxes that we tend to throw away are ideal for storing your seasonal shoes and also the ones you don't use often. To add a touch of belonging and ease the process of finding them, you can paste a picture of your shoes on the box too. The overhead lofts and the space underneath your bed are ideal storage places for such boxes. Your shoes will be safe, stored in style, and won't clutter your home.
8. BEHIND-THE-DOOR STORAGE
The wall behind the door of your room is often the most underrated places in your house. If you don't have space in your closet, set up shelves behind the door. With just a few nails and boards, you can create great storage for your shoes. The best part is, you don't need to take the soiled shoes inside the room/house because now you have a shoe rack right behind the main door. Since it's a hanging, make-shift shelf, you can add or remove as many racks as you want and alter the space between them.
CONCLUSION
For shoe lovers, there's nothing more satisfying than having a dedicated and stylish space to organize their footwear. The importance of organization is known to all who've experienced rushed mornings, where they just couldn't find the right mate for their outfit, despite having a mountain of shoes. If you have faced this, you know how important it is to organize shoes, irrespective of how big or small a storage space you have. So, take some time off and coordinate your shoes the way they coordinate with your personality.