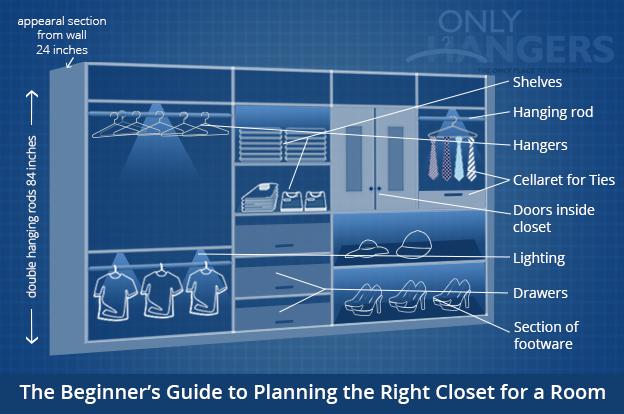 THE BEGINNER'S GUIDE TO PLANNING THE RIGHT CLOSET FOR A ROOM
The truth about planning the right bedroom closet is that it doesn't matter if the space is big or small, the key is to use that space as efficiently as possible. Narrow down your expectations from the closet and factor in ways to achieve order. Start by identifying the problem areas-the size of the closet, elements that don't work for you, and creating enough useful space. The closet should be organized so that it results in you finding the right clothes in a timely fashion.
Design your dream closet and make sure that you get the right price for each feature. While the proper organization of your items is essential in arranging a closet, it is equally important to establish an aesthetic balance between the closet and the room's decor elements.
Here is a set of guidelines to help you with planning the right closet in your rooms:
1. MEASURE THE SPACE AND IDENTIFY THE WALL STRUCTURE
Before starting with anything else, draw a plan for your closet. Begin by measuring the dimensions of the closet space: height, width and depth of the wall. Not all houses have well-defined walls, which is why it's best to measure them at multiple heights and decide the shortest measurement.
Working with different angles in the corners can be tricky. Measure the dimensions of windows and doors, if there are any in the space dedicated to the closet. Incorporate the direction of the door when open in the closet design. Windows near the closet area are always helpful in adding illumination and ventilation, but too much exposure to sunlight can fade clothes. At the same time, try to avoid rooms with too many windows for building your closet. They can reduce the amount of wall space available to anchor shelves and hanger rods.
Consult a professional to know if the walls can be used as back support in the closet design. Certain types of walls may require special hardware to anchor the shelves. For instance, rooms with drywall or paneling will require additional wall anchors to support the weight of the shelves and the hanger rods. Walls with a solid wood structure, on the other hand, will not need anchors. You can make do with a handful of 8*1 inch screws. For concrete or masonry walls, drill 0.25*1 inch holes along the closet frame and use 8*1 inch screws. Also, make markings for access panels and studs.
Be extremely careful with the measurements for your closet. The width, depth, return walls and the size of the doors will help you determine the size and style of shelving and accessories you will require. For inconsistent measurements, you can go with the smallest dimension to avoid confusion.
Here's a checklist for closet sections you can refer to:
The apparel section in the closet should have a minimum depth of 24 inches to maintain distance from the back wall.
Shelves for folded clothes should be about 12 inches apart.
 Sections for women's footwear should have enough room for shoes to be kept 6 to 7-inches apart.
Double hanging rods should be at least 84 inches high.
Calculate the number of hangers you will need. Shirts and blouses will occupy about 1 inch of rod space. Bottom wear like pants and skirts require 1.25 inches, and dresses, jackets and suits will need up to 3 inches of space each on the hanging rod.
2. CREATE A BLUEPRINT OF THE SPACE
Once you have a fair idea of the wall space and the dimensions, list your closet-related needs. Make use of the Internet and furniture catalogs for different closet blueprints, and get all your queries answered by professionals. Start with the most obvious closet essentials like shelves, hanging rods and hangers, and keep at it until you have an exhaustive list in place.
Make sure you include space for hanging garments of various sizes and lengths. Having shelves that have adequate storage space are easily accessible. If you have extra space, you can add a seating area to the layout that can be used for changing and trying on clothes and shoes!
To determine the height of the shelves, measure how high you can reach to grab an object. Subtract 5 inches (13cm) from this value, and consider this to be the maximum height for the racks and shelves. You can construct shelves higher than this to store things that you would not need for everyday use.
Make the most of a small closet space by equipping it with components that are high on functionality. So, instead of one long hanging rod, opt for a pair of shorter valet rods to hang clothes, just like in boutiques. Ensure that the rod is at a safe distance from the door of the closet. It shouldn't interfere with the door, especially when there are clothes hanging on the rail. This will encroach into the walking space and make the confined place more congested.
Grouping similar items together can add ease and simplicity to the arrangement. Some people prefer grouping clothes according to color, function, work or occasion.
3. CALCULATE THE COST OF SETTING UP
Being aware of how much you can spend on your closet is vital for the planning process. Without a rough estimate of the project cost, it will be a challenge to devise a workable storage layout for your closet.
If you are planning to set up a basic closet and are comfortable using a carpenter's level, cordless drill and other tools, the do-it-yourself gears from furniture stores can be wonderful and affordable options. Diligently follow all the directions and use the tools as per the manufacturer's instructions.
Using heavy tools isn't everyone's forte, but if you can do so, then a respectable budget is all that you need. You can install a functional and customized closet yourself and make the best use of your money. An average pro-installed walk-in closet costs about USD 1,200 to 4,500, depending on the materials and installation. At the same time, there are some extremely high-end walk-in closet projects with luxurious embellishments that can cost close to USD 50,000. Hiring a professional installer is advisable as their expertise and experience can help you avoid negligence and mishaps.
The key factors that will decide the total cost of setting up a closet include the size of your closet and the type of materials you use. A basic system with hangers and shelves will cost you less than the more elaborate systems that have cabinets and drawers.
4. FINALIZE ON THE CLOSET STYLE
Before finalizing the closet design, visit several furniture stores that have closet systems made of different materials to visualize what will work best in your room. This activity can be useful in estimating your budget allocation too. Further, you'll know if you need to eliminate a feature or change the material/specifications.
Widely-used materials for closet systems include wood, plastic, metal wire or a combination of the three. You can find plastic, wood and wire shelves at most home improvement and home decor stores. For a unique look, you can go for a custom-made closet system by a professional closet organizer or assemble it yourself with the help of manufacturer's instructions.
Other essentials to include in your final closet design are drawers and sections designed to store different items, including purses, ties, jewelry, belts, and other accessories. Go for drawers that roll or angle-open instead of slide. This will increase the durability of the drawer panels and augment the organizational capabilities of the space.
Read about the widely-used closet styles before finalizing the one for your house:
a) Walk-In Closets
This closet style offers more depth and space compared to the traditional reach-in closet. Walk-in closets work best in master bedroom suites and allow you to customize the space based on your taste and storage requirements. Size is never an issue for installing a walk-in closet as you can set one up in a few square feet or dedicate an entire room to it. While this layout offers extra space for a dressing area, you still need to careful about cluttering the closet.
b) Reach-In Closets
Reach-in closets are an interesting way to resolve space constraints without losing out on the luxurious look of a walk-in closet. This layout can include a multitude of storage solutions including poles, drawers, compartments and open shelves. They allow you to neatly store your apparels, footwear and accessories in the most effective manner.
c) Wardrobes and Armoires
Armoires and wardrobes are the most conventional closet styles that can be seen in old and new houses. They are practical storage options for people who enjoy traditional home decor. You don't have to stick to archaic closet organizers for this style. You can easily incorporate regular shelves, pullout shelves, poles, baskets and different-sized compartments in this layout.
5. DETERMINE THE SPACE REQUIREMENTS
Deciding what you are likely to store in your closet is especially important if you're going to share it with your partner. You will have to designate specific areas for the two of you. Creating a closet with predefined sections will not only keep your stuff organized, but also help you use limited space optimally to install a single closet.
Use a tall cabinet of drawers instead of a plank as it can provide storage and serve as an important divider between different sections of the closet. Baskets can be a good alternate to drawers. Place them on each side of the closet to store casual flip flops or other personal items that don't need specific space on the shelves.
Pay attention to the following points to store various kinds of clothing items:
a) Wire Shelving
Wire shelving can be designed to meet almost any closet dimension without costing as high as a custom built-in system. It is less expensive, easy to install, and provides additional support to the structure. Select a design that has smooth powder-coated finish over the wires to protect surfaces and clothing from damage. Continuous sliding rods are a good investment as they allow the hangers to move uninterrupted across the entire bar. For a standard closet, you'll need the following wire shelving options:
Shelves
Closet rods
Horizontal hang tracks
Vertical standards and brackets
End caps
Fasteners and hardware
b) Laminate Shelving
Laminate shelving is another sturdy and cost-effective option. The laminate kits available in home decor stores have sufficient supplies and often include closet rods, drawers, and other accessories. As compared to the basic wire shelving, this style requires advanced installation tools to set it up. Most laminate shelving kits have shorter shelf lengths, enabling you to adjust the shelves and the rods to various heights, allowing better access and more storage space. Remember to leave at least 12 inches between vertically aligned shelves for stacked clothes.
c) Cellaret for Ties/Stockings
Searching through a pile of unkempt and wrinkled ties/stockings every day before work is definitely not how you want to spend your mornings. Make dressing in the morning an easier task by installing a built-in drawer inset. This storage unit will keep ties/stockings wrinkle-free, aligned and visible, saving you valuable time in the process.
d) Hanging Rods
Hanging rods can be classified into two categories: single-hang and double-hang rods. Single-hang rods, commonly placed 70 inches above the floor, work perfectly to hang dresses, coats, and robes. Double-hang rods, on the other hand, are a great option to hang your skirts, shirts, slacks, and blouses, doubling your storage space. Make sure the top rod is placed about 80 inches and the bottom rod around 40 inches above the floor.
e) Baskets and Cubbies
Baskets are one of the easy-to-manage storage spaces that can be used in your closet. Buy ones made of clear plastic as they will help you view the contents without opening. You can use cubbies to store shoes, purses and other accessories.
6. PICK YOUR KIND OF CLOSET ORGANIZER
The purpose of a closet organizer is to ensure that your closet isn't disheveled. Components of a closet organizer include shelves, hangers, rods, hooks, racks, boxes, baskets and cubbies. These elements can transform a closet from a chaotic space into an organized one without major efforts.
When choosing a closet organizer, you need to prioritize your needs and then select the most suitable range of items. Some closet manufacturers allow you to assemble these products into your closet organizer set.
Once you've made up your mind on the closet amenities, invest in different types of clothes hangers. Hangers are practically the best way to organize every kind of clothing item and ensuring that they remain in good condition. The golden rule to follow when buying clothes hangers is to avoid cheap, thin plastic or wire hangers as they can be flimsy, easily breakable and can ruin delicate clothes in the long term.
Here's a quick browse-through of the types of hangers that you should invest in:
Plastic Hangers: Available in different shapes, sizes and colors, these types of hangers are ideal for hanging t-shirts, polo shirts, and casual blouses. They are also the most pocket-friendly purchases. Check the their quality before buying plastic hangers. Several retailers sell hangers made from only 34 grams of plastic, which are weaker and poor in quality. Buy plastic hangers with notches to hang strappy dresses and tops.
Wooden Hangers: To add a dash of sophistication to your closet, invest in wooden hangers. Pick wooden hangers with movable clips for skirts, and pant hangers with clamps for your trousers. Use these hangers for storing expensive formal wear including tailored suits, jackets, and evening gowns/dresses. Coat hangers are special wooden hangers that are designed with a slight a curve that provides adequate support to heavy coats and jackets.
Padded Hangers: To save space and make sure your delicate wear is kept in the best condition, include a few satin padded hangers in your closet organizer kit. These elegant hangers are perfect for hanging expensive blouses/silk shirts, and delicate satin and lace garments as well.
Customized Hangers: Purchase a few customized hangers like scarf hangers and belt hangers to store your daily-wear accessories like belts, ties and scarves. This way, you don't have to go rummaging through the drawers.
Nonslip Hangers: Nonslip hangers are customized hangers crafted to keep garments made of smooth materials from falling off. These are ideal holders for silk outfits or strappy clothing.
Metal Hangers: These are only strong and durable, but they make a chic addition to the closet. They work equally well in closets with space constraints.
7. MAKE ROOM FOR YOUR FOOTWEAR
Your footwear is an integral part of your wardrobe and should have dedicated storage area in your closet. Separate clothes, shoes, and other accessories to enhance visibility and maximize your closet's functionality.
Not all closets have a specific section for shoes. If space is an issue, you can use your creativity to store shoes! They can be stacked in a neat pile or hung against the wall for display, without taking up your valuable closet space. Even stainless-steel racks can be a unique shoe storage component and can be used to stack flats, heels and even boots.
A quirky way to increase footwear storage space is by placing the shoes facing opposite directions. This way, you can save a few inches of space per pair, and in turn, make space to fit another pair or two.
8. CHOOSE THE RIGHT LIGHTING FOR THE SPACE
Even the smallest of closets require a little illumination to liven up the space. You don't want to be using a flashlight to find your favorite pair of shoes, especially when you are running late. So, clearly a solution is needed!
The best way to light up your closet's interior is to paint the walls with light-reflective colors, like white and bluish-white, for maximum visibility. Check for the light reflective value (LRV) number of the paint color to analyze its reflective factor. The higher the LRV number, the more light will bounce off the color.
If your closet is aligned with an exterior wall, consider adding a window near the closet space to bring in natural light. For closets with organization systems, it'll be simpler to go for pre-installed lighting systems. When installing lights in your closet, don't forget about your drawers! Use an LED or a battery-operated lamp that automatically switches on when you open the drawer. This way, you will no trouble in finding ties and socks in the dark!
IN CONCLUSION
Nothing can make dressing up more luxurious than a well-organized functional closet. Such closets are no longer something reserved for well-designed houses, but can be installed in all spaces. Take this project up to put your organizational capabilities to the test and simplify your dressing routine. We would love to hear your opinions, suggestions and experiences regarding setting up/upgrading your closet. Drop us a message with your photos and tips that you'd like the other readers to know.